Christmas Wrapping Round-Up
Have you finished your holiday shopping yet? Need some creative gift wrapping ideas? Follow these links: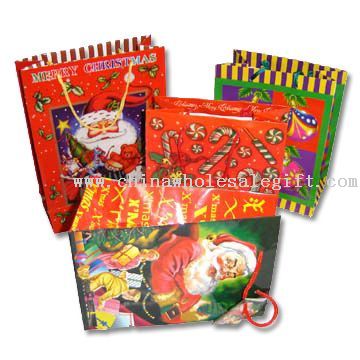 Sometimes the best gifts do not come in small packages, tied with tidy bows. When Santa unpacks his sleigh, some intriguing gifts may be oversized or unwieldy for wrapping. What creative wrapping tactics can Christmas gift givers use for larger presents?
Re-gifting can be anything from re-wrapping a recently received item to passing along a dusty old dud. Unfortunately, the entire range is widely practiced. However, tasteful and thoughtful gifts may be devised from previously gifted items, with a bit of effort and ingenuity.
Finding the right gift for someone special can be tricky. Even the most appropriate-seeming items may not produce the response you anticipate. What's a holiday shopper to do?

Gift wrapping is big business. Shoppers can spend more on the presentation than the actual presents! These pricey papers quickly end up in the trash. What an environmental waste! Here are several creative alternatives.
Much of the fun of Christmas gift-giving is watching recipients unwrap holiday gifts. Oversized gifts present gift-wrapping challenges. What's a gift-giver's solution? Here are Santa's seven super gift-wrapping strategies for oversized Christmas gifts.
Recycle an old pillowcase into a useful sack. It's sew simple! Don't toss out those old pillowcases! Stitch them into super sports sacks, ideal for toting gym uniforms to and from school or collecting laundry at camp! Decorate them for creative gift wrapping, if you wish!
Here's a classic tune for background music, as you wrap Christmas gifts. Remember this one?
.
.