Eat Your Vegetables Day
A Veritable Vegetable Holiday


In the United States, June is National Fresh Fruit and Vegetables Month. And, right in the middle of the merry month, June 17th is Eat Your Vegetables Day.

From crunchy cut carrots to crisp celery, and from bunches of broccoli to corn on the cob, Eat Your Vegetables Day offers a wonderful occasion for dipping and noshing on healthy fresh veggies.

In many regions, gardens and patio pots are beginning to sprout vegetable harvests for the home table.

How about tossing a giant salad, whipping up a stir-fry or organizing a delicious vegetable omelet on June 17th for Eat Your Vegetables Day?




Super Salads

Here are several super-simple, but delicious, salad recipes you can try on June 17th, Eat Your Vegetables Day:
Acorn Squash Delight
Simple Salmon Salad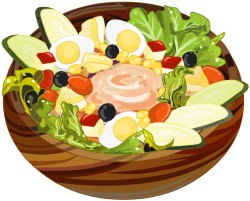 Super Simple Honey Poppyseed Dressing
Super Spinach and Strawberry Salad
My Anti-Veggie Story
As a child, I attempted the full gamut of vegetable evasions. Often, I succeeded in avoiding vegetable consumption by various tactics: the cheek pack, the secret napkin stash, the early plate scrape offer and others.
Alas, however, the most creative strategies often backfired, especially on Eat Your Vegetables Day. (Of course, in our home, every day was Eat Your Vegetables Day.)
The family dog ate everything in her dish . . . except vegetables. Somehow, she managed to eat around even the smallest diced carrots and peas.
And who could have known that steamed lima beans would actual sprout roots and grow in the potted plant on our kitchen table . . . right in front of my spot?
Sometimes, it may just be easier to swallow the truth (or the vegetables), particularly on June 17th, Eat Your Vegetables Day.
Bean Appetit!

Related items:

Cultivating to Control Weeds
Love poetry? Check out Simply Snickers, a brand-new weekly poetry prompt. Try your hand with weekly prompts! Click here to visit Linda Ann Nickerson's poetry and humor blog, Nickers and Ink.
Click here to subscribe to an RSS feed for this writer's helpful Helium content. If you wish, click here for a free subscription to this author's online AC content, so you won't miss a single post!